Inspiration - Changing seasons, changing aspirations
Fall is almost upon us. I can't believe the summer went so quickly. Fall is also a time when people make changes in their lives by starting new jobs or moving to new places or making changes to their perspective on life itself.
For the past while, I have been doing some reflection on my creativity and being inspired to try new things and work with different materials. As a creative, it's constantly evolving.
For this season and beyond, I was inspired by the colours of nature and fashion, gravitating to copper and rust tones. Silver is always a staple and will be featured separately. Texture and contrast are others element which inspire.
I create pieces that I like, that I would wear and that I think others would like. This season, I have introduced some shorter pieces, just to change things up. Pictured to the right is a selection of my new nature and fashion inspired collection. I wanted to pique your curiosity. I will be posting my new designs on FaceBook and Instagram so you will see what arises out this.
Thanks always for your support and encouragement. May you all have a fabulous Fall and Winter season.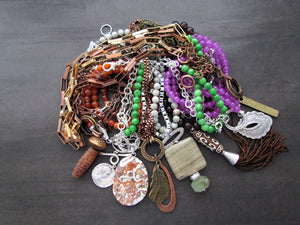 JEWELRY COLLECTION A to Z