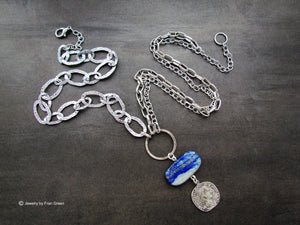 When we speak our truth, it's a beautiful voice.  Lapis Lazuli symbolizes communication, the power of the spoken word, encourages...self expression without compromise.* This unusual shaped Lapis Lazuli is rare, as is the antique looking coin pendant representing abundance. Silver-plated and gunmetal. 36", Pendant - 4 1/4"
FREE SHIPPING in Canada and continental US. Flat rate to UK and select European countries for orders up to $149.99 CAD. Free shipping to UK, etc for orders over $150.00 CAD.  
Please note that since this is a semi-precious stone, each one is slightly different from the photo.
* Excerpt from "The Crystal Bible" by Judy Hall.